What Else can you rent?
Houses
Apartments
Duplexes
Retail Stores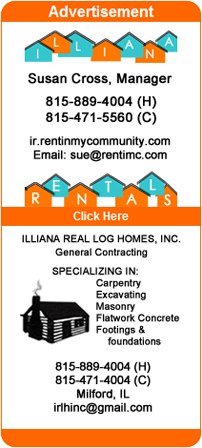 Rent Anything!

Save Space! You need an item that you use infrequently. Why worry about storing it? Rent it when you need it, return it when you're done.
Save Time! No need to go from store to store looking for what you need. RentInMyCommunity.com is an easy-to-use site to search for all kinds of things to rent.
Save Money! You save money by renting an item for a fraction of the purchase price that you may only use a few times.
Go Green! Renting instead of buying reduces unnecessary purchases. Renting is a green alternative.
Truck + Trailer
Need something moved! We can move it for you, we have a truck and a 12ft trailer with sides. Let us know.We can move you from house to house or just across the street. Need some thing picked up from the store? Let us know. Also have references

Sheldon Illinois 60966


Leaf Cart
Try before you buy! Rent an Amazing Leaf Cart for your lawn care. If you like it, buy one at AmazingLeafCart.com and your rent will be refunded.

Milford Illinois 60953


Coffee Pot
Available to rent for your Wedding, Party, Holiday, etc. Makes 30 cups of coffee.

Donovan Illinois 60931